A Step-by-Step Guide to Live Streaming Your Wedding
Live streaming your wedding is an awesome idea! It allows you to share the day with people who cannot make it and can't even attend. This blog post will show you how to live stream you're wedding for free!
Looking at the screen behind me, I see that a woman is watching me right now, and she's smiling. She tells me that her granddaughter couldn't come, but since she could watch it on this live stream, she could be here in spirit. That made my day knowing we were sharing this moment even though we weren't physically present. Live streaming your wedding is an excellent way of allowing people who can't make it or don't live nearby access to the celebration.
Tips for crafting a successful wedding live stream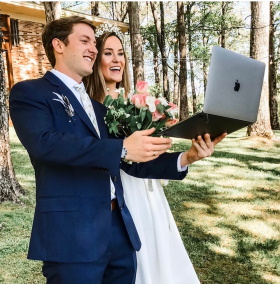 Live streaming your wedding is a great way to share the day with friends and family that can't be there. It's also a great way to rewatch the ceremony whenever you want, as it's saved for all time on YouTube! That being said, not everyone has an easy time figuring out how to live stream their wedding. So, we've created this guide so you can learn everything you need to know about live streaming your wedding.
So, you've decided that you want to live stream your wedding. That's great! Live streaming can add a unique element to your big day and allow friends and family who can't be there in person to feel still like they are a part of the celebration. Here are a few tips for live streaming your wedding.
Choose the right platform
There are a number of different platforms that you can use to live stream your wedding, and the one you choose will depend on your needs and budget. Some popular platforms include Facebook, YouTube, and Periscope.
Decide on a streaming schedule
Once you have chosen a platform for your live stream, you will need to determine the schedule for the day. This might mean reaching out to friends and family who live a bit further away and letting them know that they can tune in at a certain time.
Promote the live stream ahead of time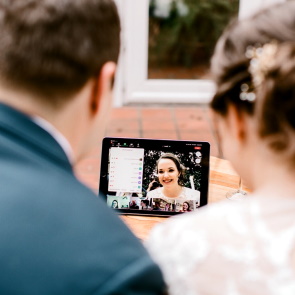 Social media and your wedding website are great ways to let people know about your live stream. Make sure to include the link to the live stream and a brief description of what viewers can expect.
What are the things needed for live streaming your wedding?
If you're looking for a new way to share your big day with family and friends, live streaming is the perfect solution. Here are some tips on setting up your live streaming services for wedding events.
Streaming platforms like Facebook Live or YouTube offer free accounts which allow guests in different locations to tune in simultaneously without any additional costs.
If you want more control over who can view the event, choose a paid service like Ustream or Live stream, which offers access controls so only guests can tune in.
To optimize video quality, make sure your camera is close enough to get an unobstructed view of the entire area where the ceremony will be taking place. Consider mounting it on a tripod.